Summary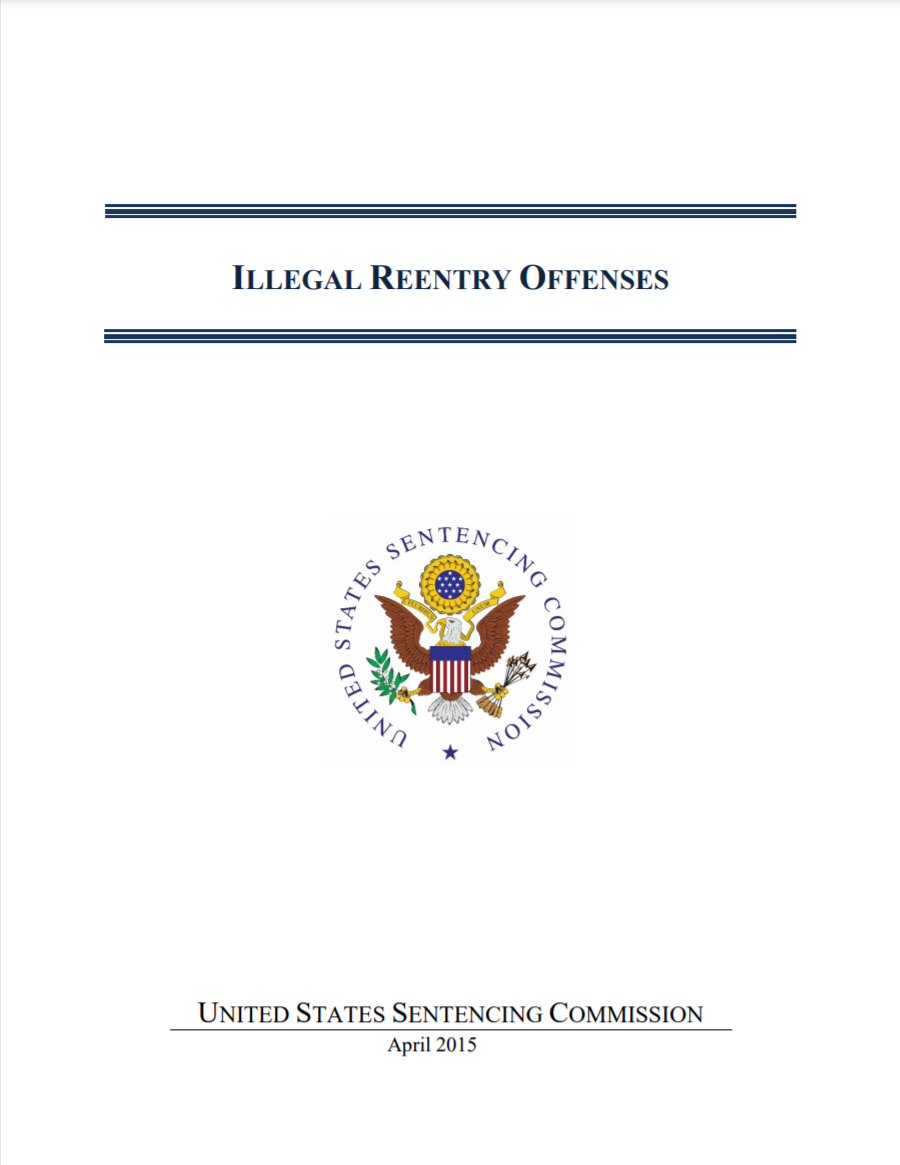 This report analyzes data collected by the United States Sentencing Commission concerning cases in which offenders are sentenced under USSG §2L1.2 — commonly called "illegal reentry" cases. Such cases are a significant portion of all federal cases in which offenders are sentenced under the United States Sentencing Guidelines. In fiscal year 2013, for instance, illegal reentry cases constituted 26 percent of all such cases. As part of its ongoing review of the guidelines, including the immigration guidelines, the Commission examined illegal reentry cases from fiscal year 2013, including offenders' criminal histories, number of prior deportations, and personal characteristics. (April 2015)
Key Findings
Among the key findings from analysis of fiscal year 2013 data:
The average sentence for illegal reentry offenders was 18 months.


All but two of the 18,498 illegal reentry offenders — including the 40 percent with the most serious criminal histories triggering a statutory maximum penalty of 20 years under 8 U.S.C. § 1326(b)(2) — were sentenced at or below the ten-year statutory maximum under 8 U.S.C. § 1326(b)(1) for offenders with less serious criminal histories (i.e., those without "aggravated felony" convictions).


The rate of within-guideline range sentences was significantly lower among offenders who received 16-level enhancements pursuant to §2L1.2(b)(1)(A) for predicate convictions (31.3%), as compared to the within-range rate for those who received no enhancements under §2L1.2(b) (92.7%).


Significant differences in the rates of application of the various enhancements in §2L1.2(b) appeared among the districts where most illegal reentry offenders were prosecuted.


The average illegal reentry offender was deported 3.2 times before his instant illegal reentry prosecution, and over one-third (38.1%) were previously deported after a prior illegal entry or illegal reentry conviction.


61.9 percent of offenders were convicted of at least one criminal offense after illegally reentering the United States.


4.7 percent of illegal reentry offenders had no prior convictions and not more than one prior deportation before their instant illegal reentry prosecutions.


Most illegal reentry offenders were apprehended by immigration officials at or near the border.