Summary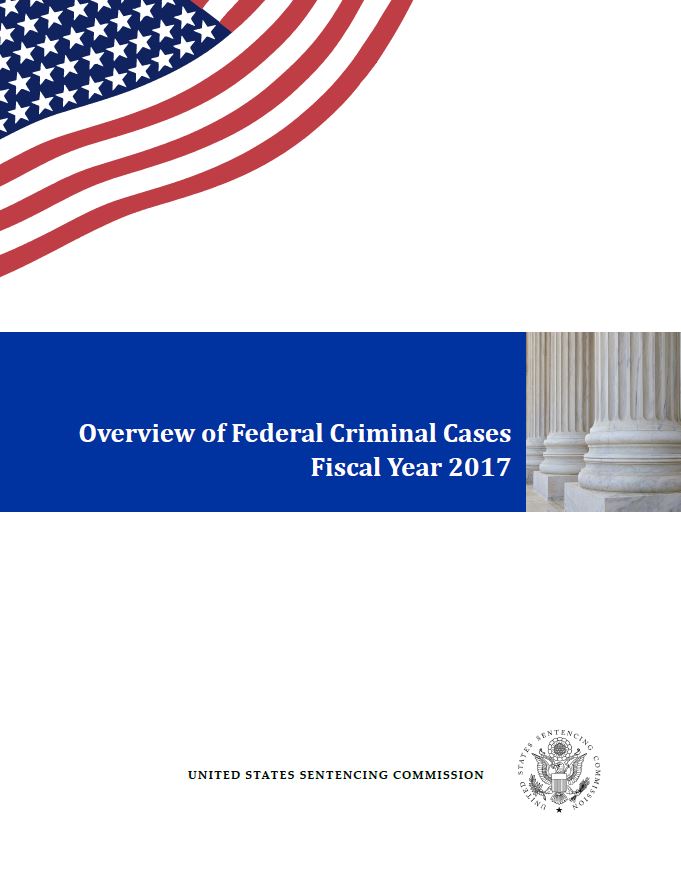 The United States Sentencing Commission received information on 67,004 federal criminal cases in which the offender was sentenced in fiscal year 2017. Among these cases, 66,873 involved an individual offender and 131 involved a corporation or other "organizational" offender. Most of these cases were felony offenses. The Commission also received information on 5,243 cases in which the court resentenced the offender or modified the sentence that had been previously imposed. This publication provides an overview of those cases.
Key Findings
A review of cases reported to the Commission in fiscal year 2017 reveal the following:
The 66,873 individual original cases reported to the Commission in fiscal year 2017 represent a decrease of 1.3% from the previous year.
The total number of drug cases fell for the fifth consecutive year, a decrease of 3.6% from fiscal year 2016. However, this overall trend did not extend to all drug types.

Cases involving methamphetamines increased by 8.5 percent and cases involving powder cocaine increased by 3.3% from the previous fiscal year.
44.2% of all drug offenders were convicted of an offense carrying a mandatory minimum penalty in fiscal year 2017. This proportion was the lowest since 1993, the year in which the Commission began reporting data on the rate at which mandatory minimum penalties were applied in federal cases.

Immigration cases were the next most common offense type, accounting for 30.5% of the total federal caseload. Most of those cases (81.5%) involved illegal reentry offenders. From fiscal year 2011, when immigration cases were the most common federal crime, to fiscal year 2016, the number of immigration cases steadily declined.
There were 8,064 firearms cases in fiscal year 2017, representing a 10.4% increase from the number of firearms cases reported in fiscal year 2016.
There were 6,029 fraud cases in fiscal year 2017, which accounted for 9.0% of the total federal caseload. Fraud cases have fallen by 30.2% from the high of 8,634 cases in fiscal year 2012, when they accounted for 10.3% of the overall caseload.