Summary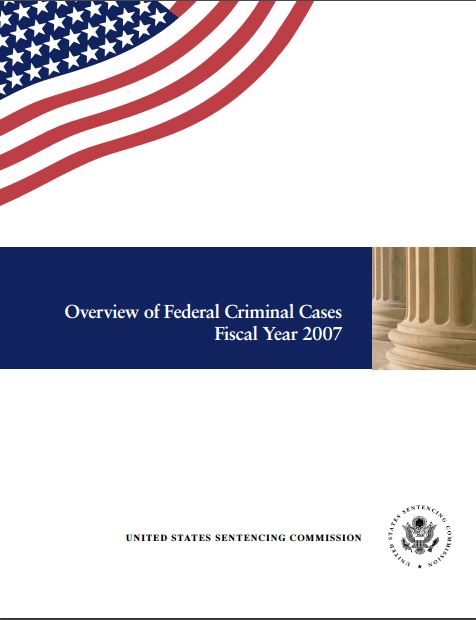 In fiscal year 2007, the United States Sentencing Commission received information on 73,062 new federal criminal cases. Among these cases, 72,865 involved an individual defendant and 197 involved a corporation or other "organizational" defendant. This publication provides a brief overview of cases involving individual or organizational offenders.
Key Findings
A review of offenders sentenced in fiscal year 2007 reveal the following:
Cases involving an individual defendant account for most of the cases reported to the Commission. The number of these cases has steadily increased over time, although in fiscal year 2007, the increase was less than one-half of one percent (0.39%) from the number of such cases in fiscal year 2006.


Cases involving drugs, immigration, firearms, or fraud are the most common federal crimes, accounting for 81 percent of the federal criminal caseload in fiscal year 2007.


In the past five years, the portion of the annual caseload that were immigration cases increased to 24.3 percent in fiscal year 2007 from 18.6 percent in fiscal year 2002.


Most persons convicted of federal crimes are United States citizens. In fiscal year 2007, 62.6 percent of all offenders were Americans.


Overall, there were more Hispanic offenders in fiscal year 2007 than offenders of any other racial or ethnic background. Hispanic offenders represented 43.0 percent of all offenders that year, while 28.8 percent of offenders were White and 24.1 percent were Black.


Almost half of the federal offenders sentenced in fiscal year 2007 (48.2%) had not completed high school, and only 5.9 percent had completed college.