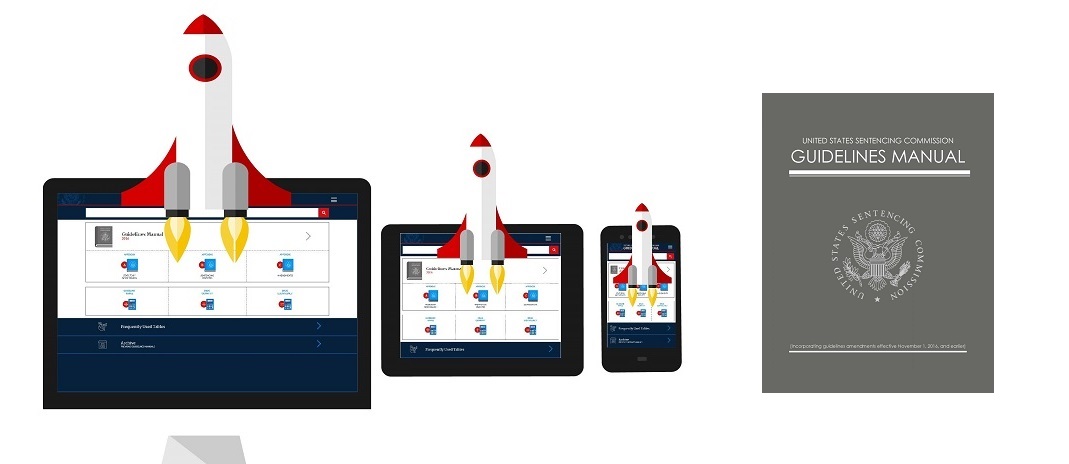 What Is It & How Does It Work?
The Guidelines App is an interactive web-based application that provides easy access to the full content of the Guidelines Manual and its appendices with enhanced features and improved navigation. The app is accessible through any internet browser on mobile devices, desktop, or laptop computers.
Guidelines App users can instantly:
search for the applicable Chapter Two guideline in a case by typing in or selecting the statute of conviction;
determine the guideline range in the Sentencing Table, base offense level using the Drug Quantity Table, or marihuana equivalencies for substances referenced in the Drug Equivalency Tables by using the app calculators; or,
research a guideline amendment by typing in the amendment number or effective date. 
Other helpful features of the app include:
quick-search by guideline or keyword;
swipe-gesture browsing;
bookmarking, text highlighting, and personal note-taking; and,
easy sharing of any part of the Guidelines Manual via email, text, or social media.
Click the button below to explore the Guidelines App!  For quick future access, don't forget to "Add to Home Screen" on your mobile device or save as a bookmark on your desktop or laptop computer.