Summary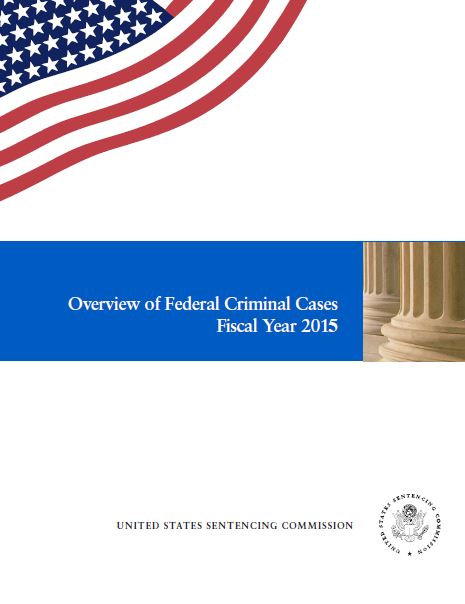 The United States Sentencing Commission received information on 71,184 federal criminal cases in which the offender was sentenced in fiscal year 2015. Among these cases, 71,003 involved an individual offender and 181 involved a corporation or other "organizational" offender. The Commission also received information on 24,743 cases in which the court resentenced the offender or modified the sentence that had been previously imposed. This publication provides an overview of those cases.
Key Findings
A review of cases reported to the Commission in fiscal year 2015 reveal the following:
The 71,003 individual original cases reported to the Commission in fiscal year 2015 represent a decrease of 4,833 (6.4%) cases from fiscal year 2014.


Drug cases continued to be the most common type of federal case. The 22,631 drug cases reported to the Commission in fiscal year 2015 accounted for 31.8 percent of all cases report to the Commission.


Immigration cases were the next most common, accounting for 29.3 percent of the total federal caseload. In fiscal year 2011, immigration cases were the most common federal crime;; however, since that year the number of these cases has steadily declined.


In fiscal year 2015, an imprisonment sentence was imposed on 87.3 percent of all offenders. Another 7.2 percent of offenders received a sentence of probation (i.e., where no type of confinement was imposed), a rate that has decreased over time from a high of 15.3 percent in 1990.


Almost three-quarters of offenders sentenced in fiscal year 2015 received a sentence of less than five years.


Methamphetamine offenses were the most common drug trafficking offenses and were the most severely punished drug crime in fiscal year 2015.


The proportion of drug offenders convicted of an offense carrying a mandatory minimum penalty was the lowest it has been since 1993.